RE@L Reviews: "Taking Steps to STEM - 'Creative Educator' Editor - Melinda Kolk"
As this new school year begins, we who work with K12 education
Have another opportunityto make this school year
Even more successful than the last one!
To help make that happen, your RE@L Blog team has been busy parsing and exploring the internet looking for tips and ideas to make that opportunity for "even better" to happen for more learners and their teachers.
RE@L is focused on STEM issues. Our forthcoming software will provide unique and extensive resources to assure better teaching and more learning.
Creative Educator Editor, Melinda Kolk, has presented several helpful steps to make STEM more successful in the classroom. Her entire blog can be found by clicking here.
Here are some key excerpts from Ms. Kolk's excellent article:
     "In recent years, STEM has become increasingly popular in education. In a STEM classroom, instruction takes a unified approach to the normally separate subjects of science, technology, engineering, and math. Educators in these classrooms and schools often teach during larger blocks of time to support deeper thinking and build problem-solving skills.
The STEM model is founded on the belief that the separation of these disciplines is done mainly for convenience, not for more effective learning. The more "holistic approach to curriculum" through STEM is designed to help students (Click on the link to the left for more information) :
see how content in one subject connects to other subjects.
think more deeply about key ideas and issues instead of memorizing facts.
make connections between what they learn in school and their experiences outside of it."
We at RE@L also believe integrating each of the four areas of Science, Technology, Environment and Mathematics
makes the learning more comprehensive and meaningful. In the real world, they are not separated and one often intersects with the others.
Blogger Kolk next goes on to say: 
 "Even if you aren't at a STEM or STEAM school, you can help students think more deeply and integrate ideas across disciplines in your classroom by:
asking questions that require knowledge and thinking in different areas.
providing students with a design challenge connected to a topic you teach.
using a design thinking process during project work.
(RE@L adds that STEAM also includes the Arts curriculum; many educators believe it is imperative to connect the arts with STEM)
"Utilize Design Thinking or a Design Process
     "A design thinking approach, or a design process, can help you get students questioning, thinking, and making in both STEM and traditional single-subject classrooms. While creative designers have been using this process for almost fifty years, this process has more recently found its way into education, especially in maker spaces.
(RE@L also believes that design-thinking adds an important catalyst to promote more integrated K12 learning).
     "There are many models for the steps in design thinking, but they generally follow a process of defining the problem, coming up with ideas, making prototypes or designs and then improving them.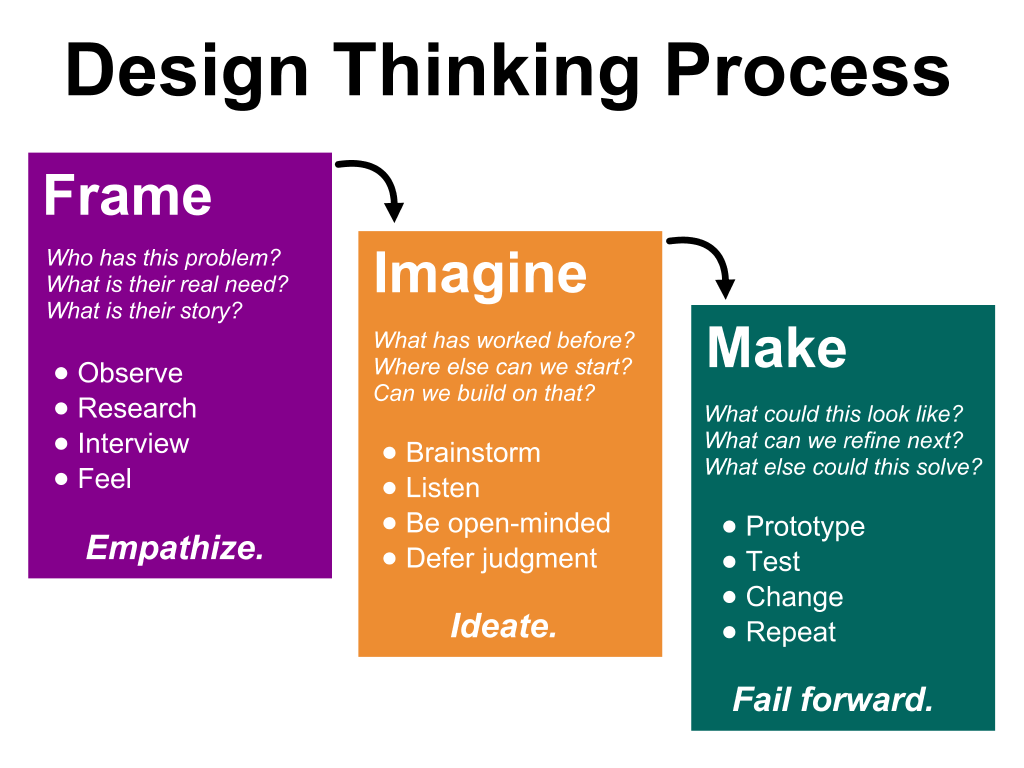 "The process begins as you define, or frame, the problem according to the needs and desires of the people encountering it. You empathize with the audience for the problem, so that you can better identify what is actually needed and develop solutions to the issue.
Next, you work to imagine possibilities that address the specific needs you have defined. This part of the phase is about volume of ideas, not quality of them.
Next, you make your ideas real by creating designs and prototypes. The initial designs and products you make aren't the end of the process, but a first attempt at a solution. You continue work by evaluating the first attempt as a prototype; testing, getting feedback, and learning from "failure" to make changes and improvements in a next version.
The process is repeated until you get a result you will use to move forward. In some models, like the Engineering Design Process used by the Museum of Science in Boston, improving is a separate step in the process.
"Classroom Implementation Ideas
"The goal of a STEM approach is to get students solving complex problems that require thinking across disciplines. It doesn't matter if you are a STEM school, or even which process you utilize. What matters is challenging students to think, know, and question across disciplines, building both creative and analytical thinking skills and learning when to use them.
In language arts class, you can use literature you are already reading to connect to STEM thinking. Literary characters encounter problems all the time, so ask students to design alternative paths to action for them. They may not be making something, but they are thinking both creativity and analytically about both the text and their experiences outside the classroom." 
RE@L believes The Creative Educator provides many more examples for other school classes that are very helpful to teachers. 
Lastly, author Kolk's closing recommendation coincides with our beliefs at RE@L:
If you want change for the better, you have to risk change. It starts with:
"Take your first step…
No matter exactly how you deploy the ideas in a STEM approach, remember the goal is to help students connect ideas between disciplines to think more deeply about our world. Challenging students with complex problems that require ideas and information from multiple subjects can better prepare them to tackle the issues facing our world today and into the future."
=====
Thanks to author Melinda Kolk for her insightful suggestion for getting started with STEM.
Like all journeys that enable our futures, it begins with a single step. RE@L believes it's a step worth taking.
RE@L plans on being there for educators and students everywhere to make the STEM  journey a successful one.
Was this RE@L Blog helpful to you? Vote it up or down. 
Click Below To Email Your 
Click on the our RE@L Blue Globe below for more information on RE@L:
Share
15
0
0